The pluvial systems are based on the ability to collect, conduct water and flow at the lowest point. It is done with the help of gutters and downpipes to the ground. Beyond their applicability, BrunTek pluvial systems bring character to any type of construction.
Application
It is used in roof drainage and in residential, industrial, commercial buildings.
Why to choose BrunTek pluvial systems?
BrunTek pluvial systems allow water to drain from the roof in an organized and fast way. They can be designed according to building characteristics and your requirements.
To provide construction safety, pluvial accessories are optimized to achieve the required performance and reliability.
Europe, in particular, faces abundant rainfalls, the frequency with which they occur increases also exponentially. This is a major challenge for pluvial systems manufacturers and suppliers
As the most frequent heavy rainfall leads to increased requirements for the planning and implementation of drainage systems, our mission is to ensure the discharge of large quantities of water in full safety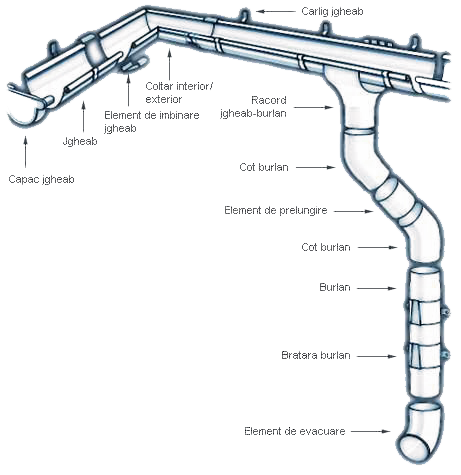 RAL 3005
RAL 3009
RAL 3011
RAL 7024
RAL 8017
RAL 8019
RAL 9002
RAL 9005
Steel sheet, galvanized on both sides protected by polyester
Finishing warranty (paint)
15-year warranty for color features
35-year warranty for corrosion and perforation features
50 years, resistance to temperature variations
The raw material is provided by