Fresh air is essential for survival. It is often time to spend long periods inside insufficiently ventilated spaces, which is detrimental to our health. That is why we offer you a variety of ventilation grids, which are used to provide controlled room ventilation.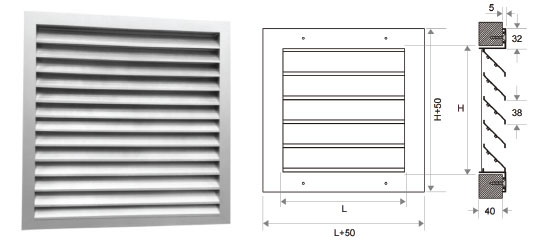 Applicability
Ventilation grids offer a wide range of applications from residential to industrial applications. In the case of office buildings, ventilation grids are an indispensable structure in their construction.
Why to choose BrunTek Ventilation Grids?
It regulates fresh air flow according to the relative humidity level in the room
Their maintenance process is relatively simple and is carried out by periodic cleaning of the grids
It is an excellent technical and economic structure, with many advantages, including optimization of the humidity level, elegant finishing and low cost of use, represented by the lack of electricity
RAL 3005
RAL 3009
RAL 3011
RAL 5010
RAL 6005
RAL 6020
RAL 7024
RAL 8004
RAL 8017
RAL 8019
RAL 9002
RAL 9005
RAL 9006
Steel sheet, galvanized on both sides protected by polyester
10-year warranty for color characteristics and corrosion
15-year warranty for color characteristics and corrosion
35-year warranty for color characteristics and corrosion
The raw material is provided by