Our range of Brise Soleil offers architects new alternatives for light and durable façades with thin, streamlined shapes.
Structural improvements to balance the amount of heat in a building by the diffusion of sunlight are strongly developed by using these types of profiles.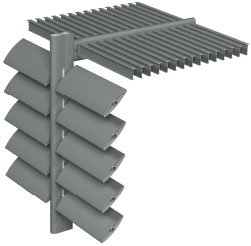 Applicability
The Bruntek range of up to 6000 mm supports multiple applications of Soleil Brisa in residential and industrial buildings.
They can be used for public buildings, apartments or offices.
Why to choose Brise Soleil?
Designed for quick and practical installation, Brise Soleil provides a cost-effective solution
Brise Soleil's effect on building design is to produce an amorphous exterior covering of the façade that hides the real functions of the building, but has the potential to create harmony in street design
Brisele Soleil guarantees durability, low porosity, resilience and ductility of the building wall, while improving the energy efficiency of the building
Their structural protection prevents solar overheating. It also stops the transition of unwanted energy and light into the building, which removes dazzling reflections from TV screens or from your computer. However, visual contact with the environment is maintained, the outward view being very important and respected
RAL 3005
RAL 3009
RAL 3011
RAL 5010
RAL 6005
RAL 6020
RAL 7024
RAL 8004
RAL 8017
RAL 8019
RAL 9002
RAL 9005
RAL 9006
Steel sheet, galvanized on both sides protected by polyester
10-year warranty for color characteristics and corrosion
15-year warranty for color characteristics and corrosion
35-year warranty for color characteristics and corrosion